Since our founding, MIKRA has conducted or partnered in artifact exhibits and events in a variety of public and private venues, from California to the Carolinas. These have occurred in diverse environments including governmental, university, performing arts, and other kinds of settings. Public exhibition of artifacts is part of the mission of MIKRA. Below is a sampling of some our public events. If you would be interested in scheduling or collaborating in an exhibit, please contact us.
HARRISBURG, PENNSYLVANIA
april 30, 2019
For April, 2019, the Leaders of Faith Foundation in Pennsylvania sponsored the Common Wealth of Pennsylvania annual Prayer Breakfast, hosted at the Radisson Conference Center, in Harrisburg. The event was co-chaired by Senators John Blake and Scott Martin, and Representatives Dawn Keefer and Patrick Harkins. MIKRA CEO, Brian Rickett, was invited to provide the annual address and to display a select set of artifacts related to the morning's presentation. Following the event, the MIKRA team presented an artifact exhibit at the State House hosted by Jeff Whitebread and the Capitol Commission of Pennsylvania. In addition to the various artifacts displayed, MIKRA presented an afternoon lecture on the origin and transmission of the textual artifacts that comprised the exhibit. The above photos capture scenes from both events.
INDIANAPOLIS, INDIANA
February 12, 2019
In February, 2019 the MIKRA team presented a manuscript and scroll exhibit at the Indiana state house in Indianapolis. We were delighted to be assisted by Dr. Peter Gentry, and Dr. Richard McDonald, who were joined by student docents from the Southern Baptist Theological Seminary, Louisville, KY. We are grateful for their friendship and willingness to travel all the way to Indianapolis to help out with this event.
Of additional note for this exhibit, is that for the first time in our state house events, we exhibited three papyri manuscript facsimiles of note. These consisted of P46, dating to ca. AD 200, P52, which dates to the 2nd century, and P66, which dates to the 2nd or 3rd century. These exquisite facsimiles were commissioned by The Artifact Foundation, and produced by our friends at Facsimile Editions, London.
Of the items presented, the Kennicott Bible facsimile first introduced in our exhibit last month at Pierre, South Dakota was highlighted. The Kennicott facsimile is special to MIKRA for several reasons. First, this 15th century illuminated manuscript from Spain is one of the most exquisite of all medieval Hebrew manuscripts. It is richly ornamented and is a stunning work of artisanship and scholarship. Second, the manuscript was completed in Spain just one and half decades before the expulsion of the Jews from Spain, making its completion both monumental and timely. Third, MIKRA CEO Brian Rickett had the rare privilege of examining the original Kennicott alongside 4 or 5 of its facsimiles at the Bodleian library in 2017, as part of the Oxford Center for Hebrew and Jewish Studies summer workshop. Finally, this special facsimile was made available to MIKRA, on loan from its creators in London, exclusively for our 2019 1st quarter exhibits. For more about the history of Benjamin Kennicott, and how this Bible came to be named and placed in Oxford, see the page, here.
Pierre, South Dakota
January 22, 2019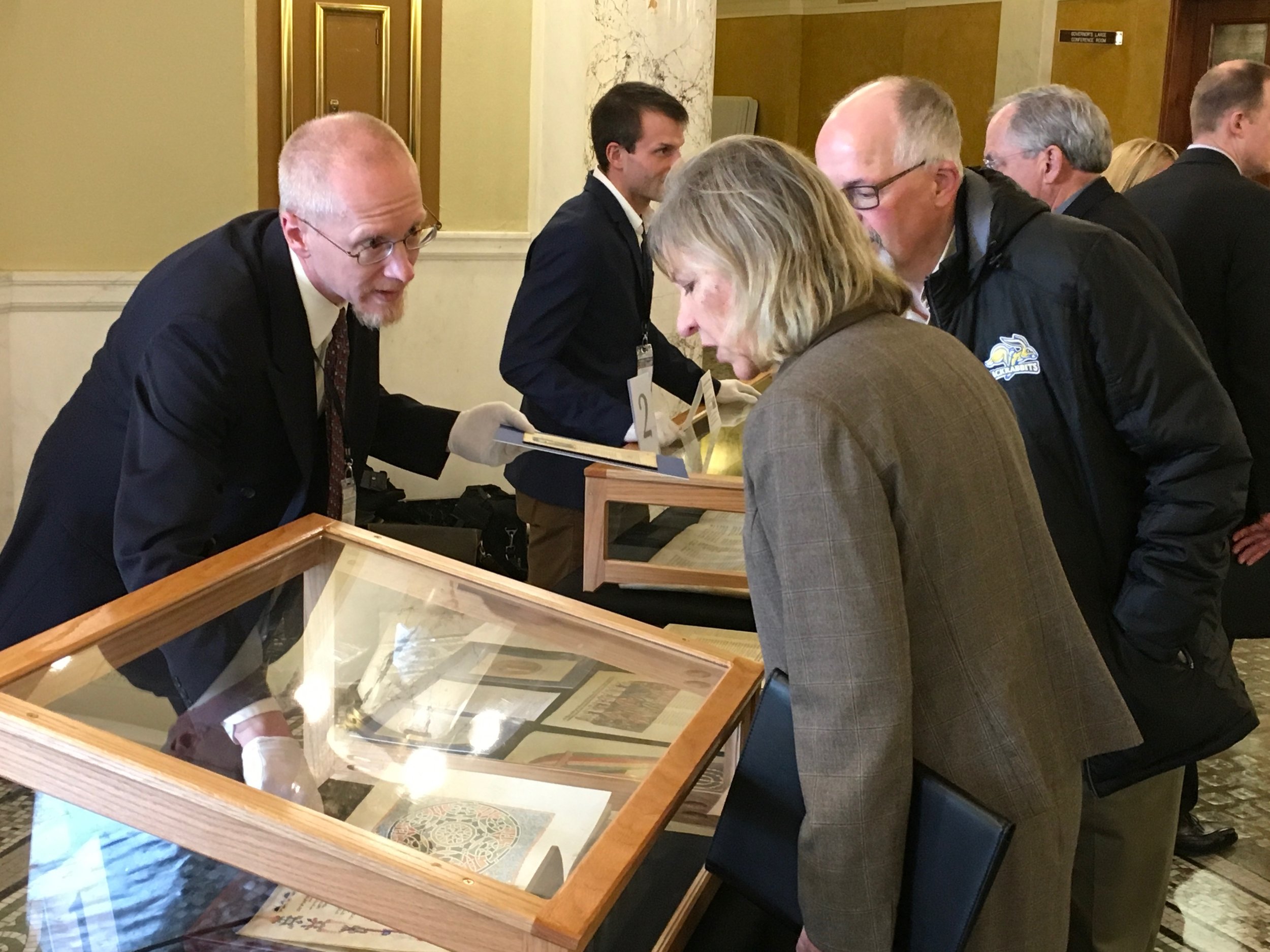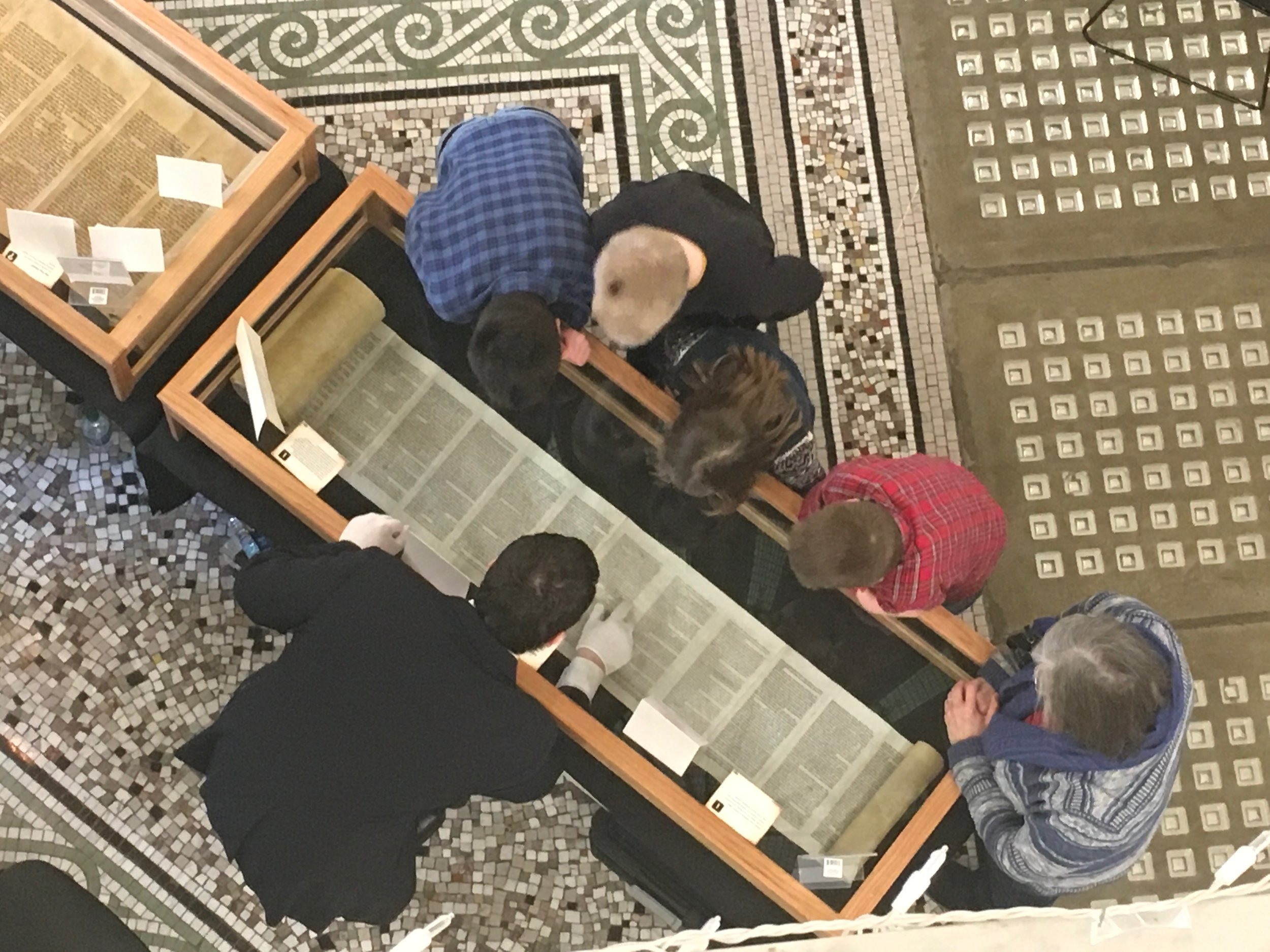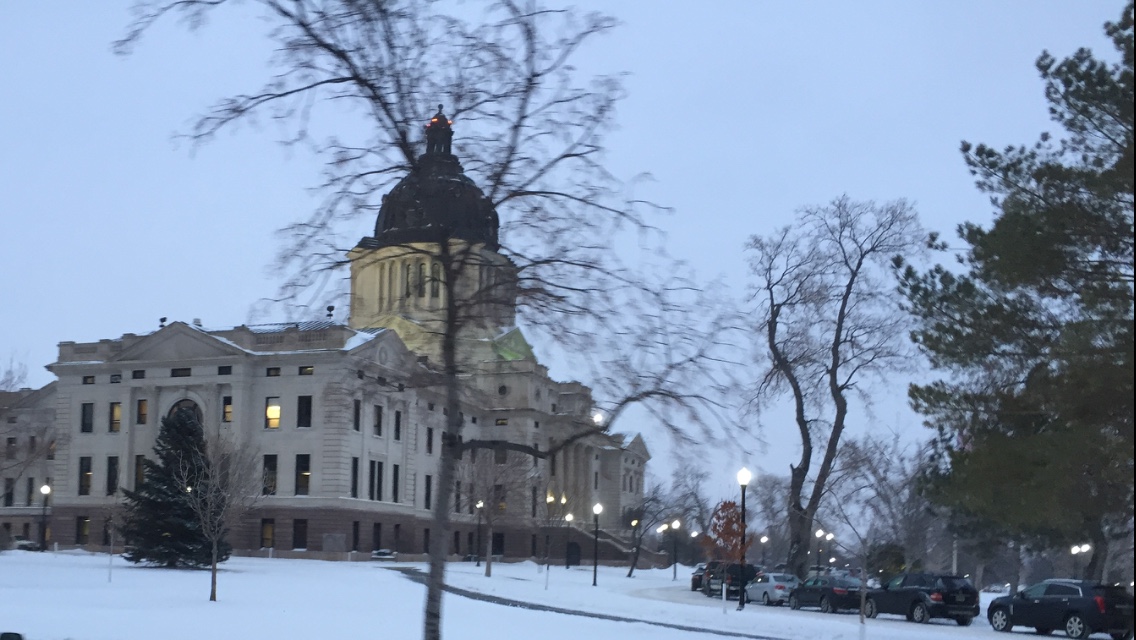 For January 2019, we conducted a manuscript and scroll exhibit in the beautiful State Capitol facility in Pierre, South Dakota. The exhibit was held on the first day of the new legislative session and was set-up for viewing in the Rotunda area. For this exhibit, we added a collection of very special facsimilia which we were delighted to present publicly for the first time. These included a folio from the exquisite 15th century Castilian language Alba Bible, with illustrations depicting Gideon and Midionites, Joshua and Battle of Jericho, and Aaron in Tabernacle. Also featured were illustrated leaves from The North French Miscellany depicting Solomon's Judgement, placed next to a depiction of the Near Sacrifice of Isaac, as well as a leaf from the Rothschild Miscellany (Psalm 1) all alongside a complete Kennicott Bible facsimile.
Of particular significance is that the Alba Bible facsimile was commissioned, completed, and presented in 1992 as a commemorative production to mark the official end of the expulsion of the Jews from Spain, when Spanish King Juan Carlos I officially rescinded the 500 year old edict. In a special ceremony, the King along with President Chaim Herzog of Israel, received the first two copies of the facsimile to mark the very special occasion and inaugurate a new era of friendship. We were delighted to bring such a historic and monumental symbol of international, State, friendship between Jews and Christians to one of our US State Capitols.
Nashville, Tennessee
April 5, 2018
On April 5, 2018 the MIKRA team presented two exhibits at the Tennessee State Capitol. On the first floor, the exhibit was merged with the Capitol tour in the Old Supreme Court chambers featuring a 17th century manuscript, a 19th century Tunisian (North African) Scroll, a facsimile of the Great Isaiah Scroll, plus facsimiles of a Pesher Isaiah, Pesher Habbakuk, and other scroll fragments from the Dead Sea Scrolls. Several talks plus an hour long lecture were also provided by MIKRA CEO Brian Rickett and MIKRA team member Randy Barlow. On the second floor, an additional rare manuscript, illuminated Esther scroll, several more Torah scrolls along with a variety of other manuscripts and volumes were featured. We were also privileged to be joined by Dr. Kim Pennington, PhD in Ethics and Culture who served as a special docent for this exhibit, as well as Bill Geisel and his team from the Tennessee Capitol Commission.
Most of the beautiful images in this gallery are courtesy of Stephanie Turner.
March 28, 2018
On March 28th, 2018 the MIKRA Corp. partnered with Steve Weaver of the Kentucky Capitol Commission to present an exhibit of scrolls, manuscripts, and facsimilia at the Kentucky State Capitol in Frankfort, KY. Items featured for the first time in our exhibit included a previously un-displayed Keter/Taj Torah, facsimile of the Great Isaiah Scroll housed in Jerusalem, Qumran manuscript facsimiles, and others. Emphasized themes included religious and ethno-religious tolerance, orthography, codicology, art history, Hebrew calligraphy, and more. The event featured a lecture by MIKRA CEO Brian Rickett on the history of the items featured in the collection and their cultural, artistic, religious, and political significance. The team was assisted by Dr. Peter Gentry of SBTS who served as an exhibit docent along with a number of his students. The event was covered by multiple TV interviews and write-ups in local media outlets. E.g., see: Kentucky Today, and LEX18.com.

Charleston, South Carolina
December 7-9, 2017
MIKRA Researcher, R. Brian Rickett, is pictured here (top) at the Gaillard performing Arts Center, presenting a lecture at the inaugural exhibit of The Artifact Foundation. The title of this lecture was "Beauty, Truth, and Goodness: Literary Artistry and the Meaning of Life, A Study of Ecclesiastes 1:2-11." This lecture traced the the compositional structure of the opening poem of Ecclesiastes to reveal Qoheleth's ingenious reflections about life's Ultimate Good. In addition to lectures, the event featured an artifact exhibit and the debut performance of The Complexsions Charleston City Ballet Company.
May 4, 2017
Earlier this month, we held an artifact exhibit at the Arlington Convention Center, in Arlington, Texas. The talk on this occasion was most directly related to textual transmission, preservation, and technological developments used in artifact analysis. Following the lecture was a Q and A.
Exhibit at the Arkansas State Capitol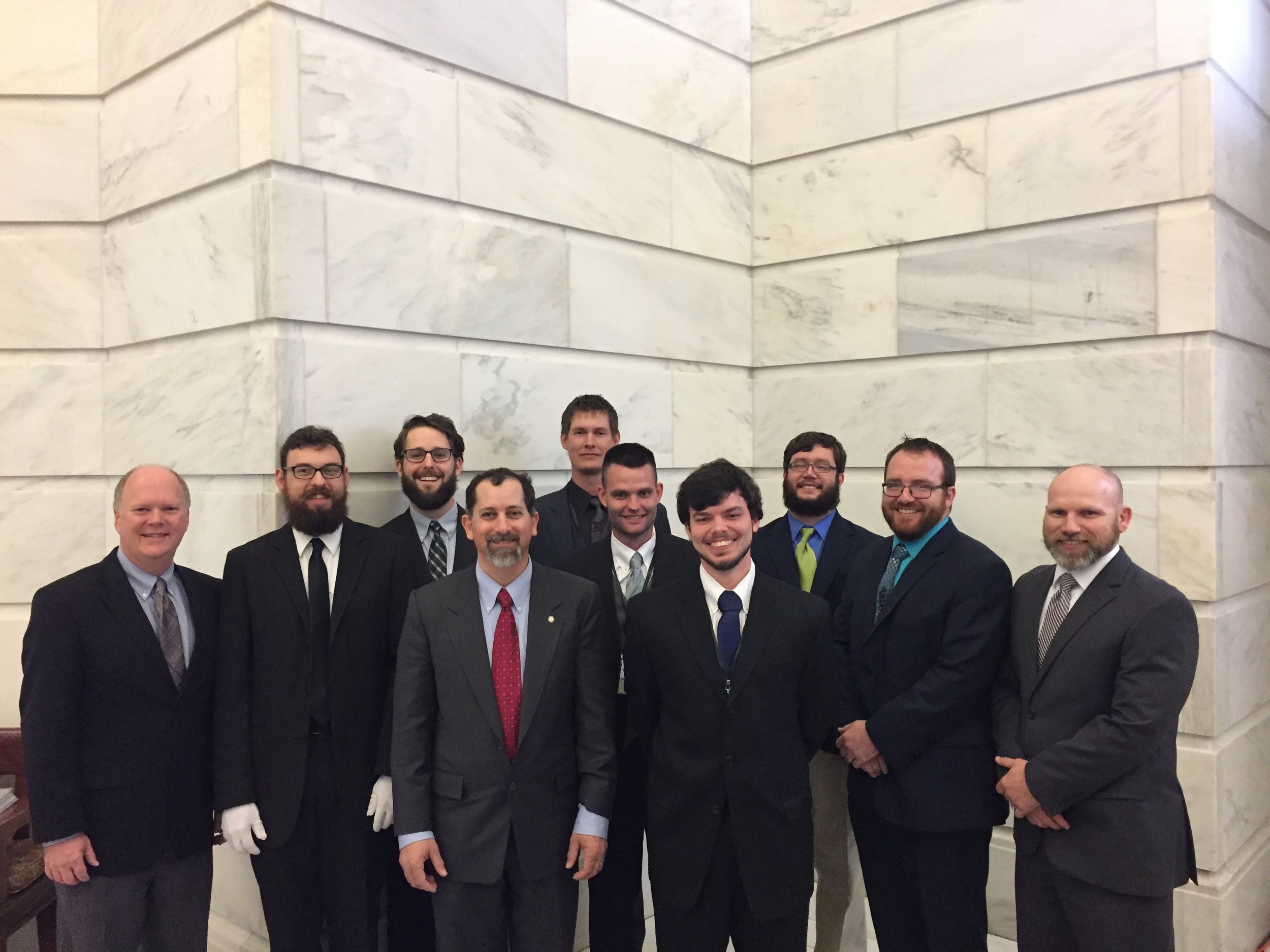 The stunning images in this collection are courtesy of the Arkansas Secretary of State. See the full gallery here.
March 5, 2017
In March, we hosted a scroll and artifact exhibit at the Arkansas State Capitol Rotunda. Seven stations of artifacts, including a Taj Torah, sefer Torahs, and other scrolls and manuscripts were on display for viewing. Each station was manned by student docents that provided information on the historical and religious significance of the items. MIKRA Principal Researcher Professor R. Brian Rickett, presented a lecture on the cultural, religious, and political issues that resulted both in the creation of these artifacts, as well as to their loss by the original owners. Prof. Rickett explained that the artifacts on display were physical, tactile witnesses to heinous crimes that must never occur again.
Scroll Dedication at The Master's University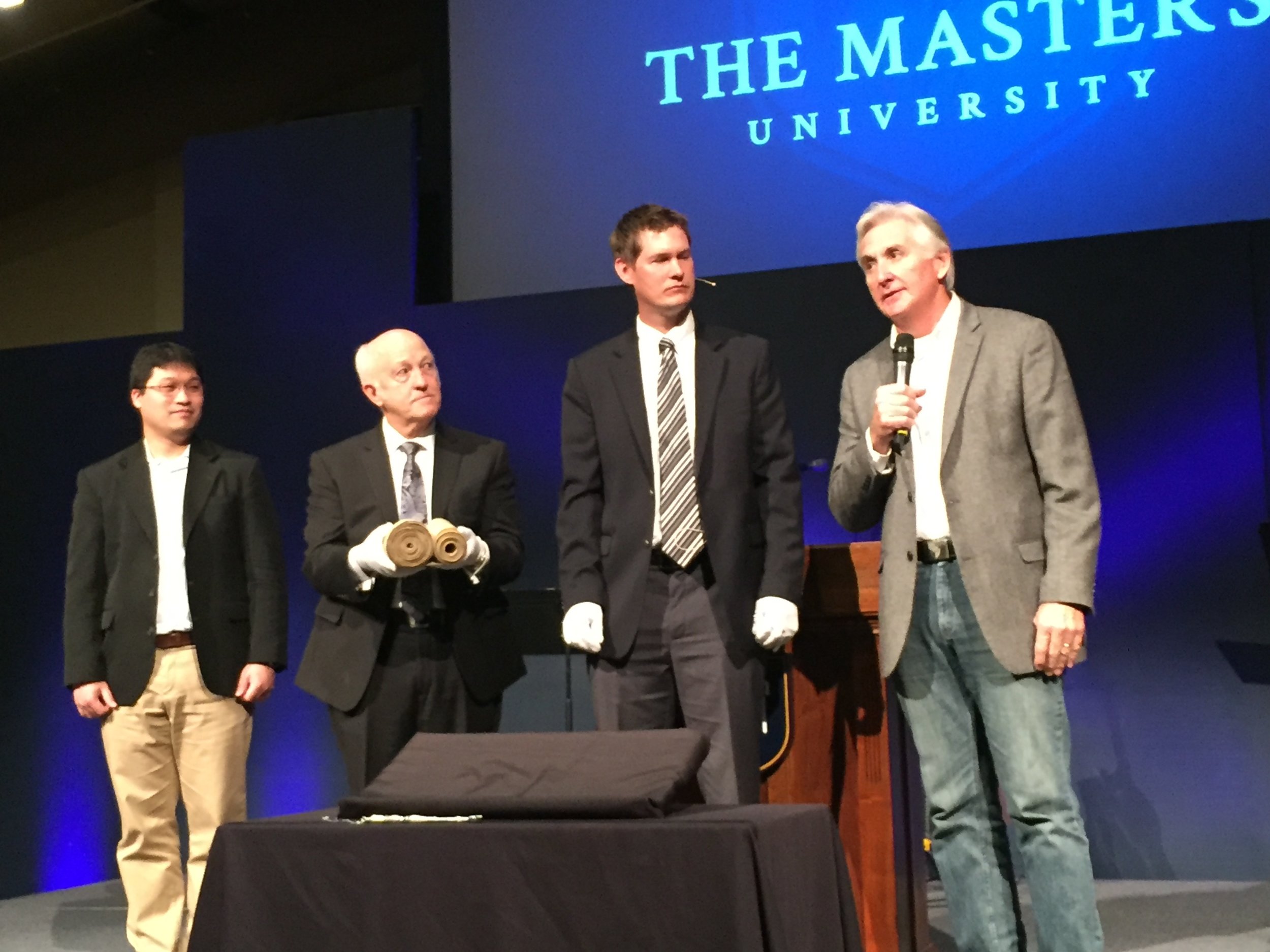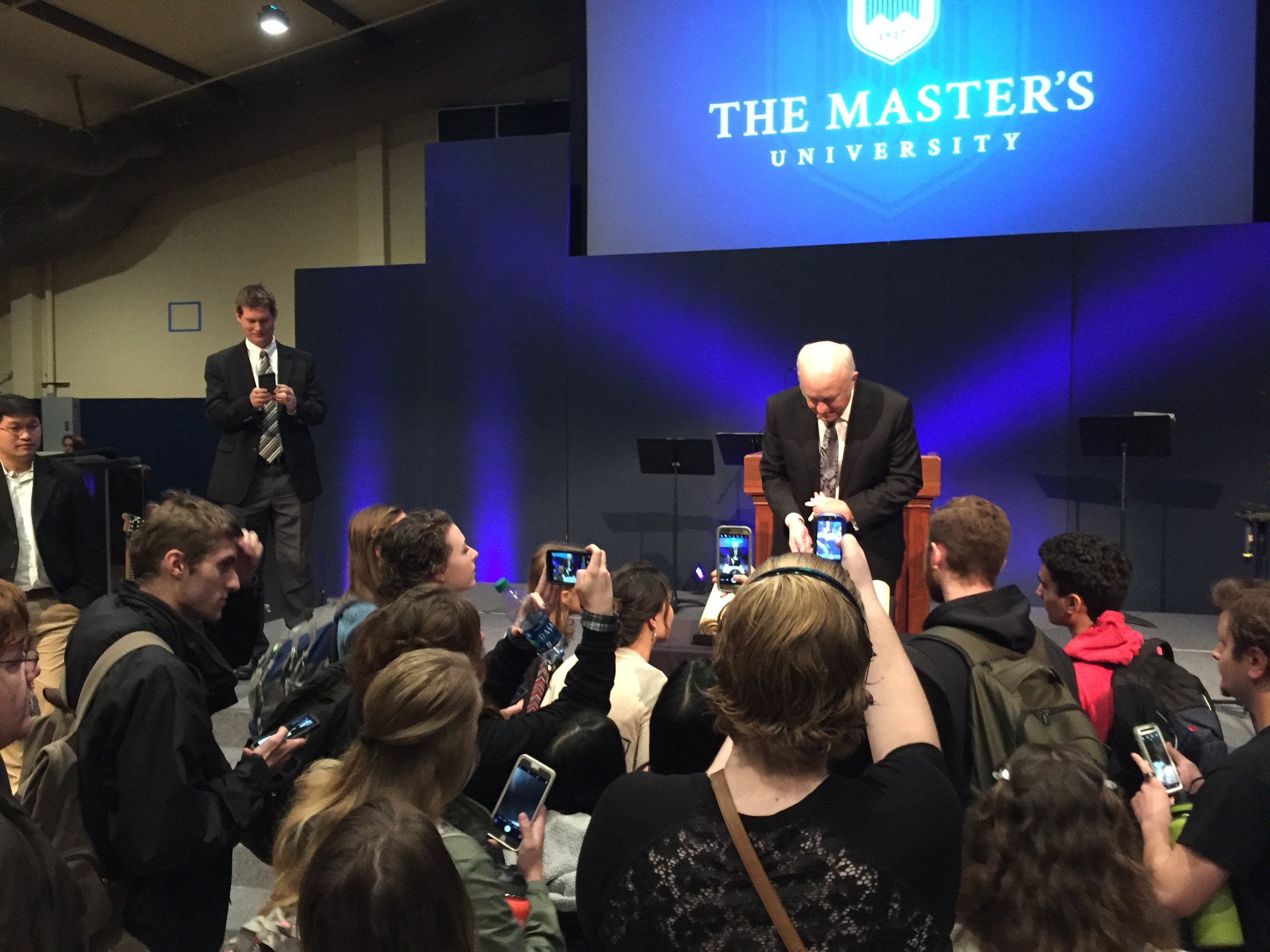 February 10, 2017
MIKRA personnel facilitated the transmission of a several centuries old German Ashkenazi scroll to The Master's University in Santa Clarita, Calif. In a special dedication service, TMU Bible Professor William Varner and BMATS/MIKRA's Prof. Brian Rickett co-lectured on the significance, first generally, then specifically (respectively), of the scroll being dedicated. Later that afternoon, the pair co-taught a seminar to a small group of faculty, staff, and students. The pictures above capture the morning talks and the dedicatory handing over of the scroll to faculty, along with student response.
Exhibit at the University of Central Arkansas
August 28, 2016
The exhibit at UCA featured several Torah scrolls, an Esther scroll, and several manuscripts and papyrus fragments. Students and attendees were able to see these artifacts close up, ask questions of docents, and listen to a lecture given by Professor R. Brian Rickett.